| | | |
| --- | --- | --- |
| | Custom Search | |
Operation Argus - 1958

/ Main Archive / USA /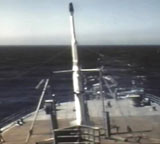 X-17a Missile

Operation Argus was the only clandestine test series in the 17 year history of atmospheric testing. It was secretly conducted in the South Atlantic, 1,770 kilometers southwest of Capetown, South Africa. Argus consisted of three very high altitude test shots of the W-25 warhead to investigate the effects of nuclear explosions outside of the atmosphere.

The tests were designed to investigate how the charged particles and radioactive isotopes released would interact with the Earth's magnetic field potentially interfering with radar tracking, communications, and the electronics of satellites and ballistic missiles. One early proposal was to create a high intensity radiation shield which would "cook-off" incoming enemy ICBMs.

Coordinated measurement programs involving satellite, rocket, aircraft, and surface stations were employed by the services as well as other government agencies and various contractors worldwide. Approximately nine ships and 4,500 people participated in the operation. President Eisenhower approved the testing of the Argus concept on 6 March.

These tests can be considered a logical extension of the high altitude shots conducted within the atmosphere in Hardtack I which detonated warheads at 26,000 meters (a 1.7 kt W-25 in the Yucca shot), 43,000 meters (a 3.8 Mt W-39 in the Orange shot), and 76,800 meters (also a 3.8 Mt W-39 in the Teak shot). Argus pushed nuclear tests still higher with effects tests at 160 kilometers, 290 kilometers, and 750 kilometers.

Originally Argus was designated Hardtack-Argus, and later FLORAL. For reasons of security, both names were dropped in favor of the independent name Argus. The time frame for Argus was substantially compressed due to the instability of the political environment, i.e. forthcoming bans on atmospheric and exoatmospheric testing. Consequently, the tests were conducted within a half year of conception. Normaly a test series took up to two years to plan and execute.

The motivation for this secret series was a theory developed by physicist Nicholas Christofilos at Lawrence Radiation Laboratory (LRL). He had predicted that military significant effects would be produced by injecting charged particles from nuclear explosions into near space creating artificial Van Allen belts. Operation Argus has been termed the "world's largest scientifc experiment" encompassing as it did the space surrounding the entire Earth.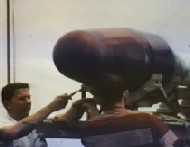 X-25 Warhead

All three shots were launched by a specially modified Lockheed X-17A three-stage missile fired from the USS Norton Sound (AVM 1), which was operating as part of the 9 ship Task Force 88. The 1.7 kt plutonium implosion W-25 warhead was developed for the unguided air-to-air rocket Genie, and was exceptionally light for the time (98.9 kg), dimensions were 44 cm (width) and 65.5 cm (length). It had previously been fired three times, so its yield and reliability was well established. The X-17A was 13 meters long with the Argus payload, and had a diameter of 2.3 meters. Although the W-25 was a LASL warhead design, Argus was actually conducted by LRL.

To investigate the effect of trapped radiation in the Earth's magnetic field it was important pick a test site where the magnetic field configuration could trap and hold charged particles efficiently - this dictated testing between 35 and 55 degrees either north or south of the equator. The altitude limit of the available missile dictated a southern hemisphere test, since the geomagnetic field is about 320 kilometers off-center from the Earth's geometric center at this point, bringing the stable trapping region 640 kilometers closer to the surface.

When Argus 1 was detonated, shipboard observers saw a horizon-wide flash brighten the cloud layer. An aircraft above the clouds at 6,700 meters reported a great yellowish luminous ball above the horizon. For the next 30 minutes the aircrew observed and photographed an awesome aurora display of changing colors and shapes, with greenish aroral streamers running magnetic north and south. During shot 3, there were no clouds at the launch site. The flash of the detonation and resulting auroral display were visible to observers in the task force, as well as to those in the observation aircraft.

The results of the Argus operation proved the validity of the Christofilos theory. The establishment of an electron shell derived from neutron and beta decay of fission products and ionization of device materials in the upper fringe of the atmosphere was demonstrated. The operation not only provided data on military considerations, but also produced a great mass of geophysical data and pure scientific material of great value.

The tests were first reported by the New York Times on March 19, 1959, headlining it as the "greatest scientific experiment ever conducted." While the tests were announced the following year, the full results and documentation of the tests were not declassified until April 30, 1982.





Test Shots
| Video | Name | Yield | Date |UTC| | Type | Warhead | Location | LAT/LONG |
| --- | --- | --- | --- | --- | --- | --- | --- |
| - | Argus I | 1.7 Kt | 02:28 27/08/1958 | Missile @160km | W-25 | South Atlantic | -38.50000 -11.50000 |
| - | Argus II | 1.7 Kt | 03:13 30/08/1958 | Missile @290km | W-25 | South Atlantic | -49.50000 -8.20000 |
| - | Argus III | 1.7 Kt | 22:13 06/09/1958 | Missile @750km | W-25 | South Atlantic | -48.50000 -9.70000 |
Published on: 2010-10-03 (2212 reads)
[ Go Back ]