| | | |
| --- | --- | --- |
| | Custom Search | |
Pakistans's Nuclear Weapons Program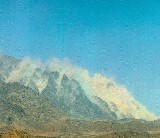 Chagai I

Pakistan's nuclear weapons program was established in 1972 by Zulfiqar Ali Bhutto, who founded the program while he was Minister for Fuel, Power and Natural Resources. He later became President and Prime Minister. Shortly after the loss of East Pakistan in the 1971 war with India, Bhutto initiated the program with a meeting of physicists and engineers at Multan in January 1972.

India's 1974 nuclear testing gave Pakistan's nuclear program new momentum. Through the late 1970s, Pakistan's program acquired sensitive uranium enrichment technology and expertise. The 1975 arrival of Dr. Abdul Qadeer Khan considerably advanced these efforts. Dr. Khan is a German-trained metallurgist who brought with him knowledge of gas centrifuge technologies that he had 'acquired' through his position at the classified URENCO uranium enrichment plant in the Netherlands. Dr. Khan also reportedly brought with him stolen uranium enrichment technologies from Europe.

Dr. Khan was put in charge of building, equipping and operating Pakistan's Kahuta facility. Under Khan's direction, Pakistan employed extensive clandestine network in order to obtain the necessary materials and technology for its developing uranium enrichment capabilities.



"We know that Israel and South Africa have full nuclear capability -- a Christian, Jewish and Hindu civilization have this capability... the Islamic civilization is without it, but the situation is about to change."

- Deposed Prime Minister Zulfikar Ali Bhutto, from his jail cell, 1978


In 1985, Pakistan crossed the threshold of weapons-grade uranium production, and by 1986 it is thought to have produced enough fissile material for a nuclear weapon. Pakistan continued advancing its uranium enrichment program, and according to Pakistani sources, the nation acquired the ability to carry out a nuclear explosion in 1987.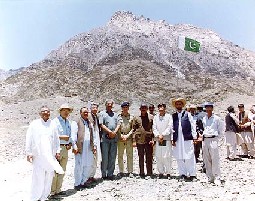 Scientists in front of Koh Kambaran

On May 28, 1998 Pakistan announced that it had successfully conducted five nuclear tests. The Pakistani Atomic Energy Commission reported that the five nuclear tests conducted on May 28 generated a seismic signal of 5.0 on the Richter scale, with a total yield of up to 40 KT. Dr. A.Q. Khan claimed that one device was a boosted fission device and that the other four were sub-kiloton nuclear devices.

On May 30, 1998 Pakistan tested one more nuclear warhead with a reported yield of 12 kilotons. The tests were conducted at Balochistan, bringing the total number of claimed tests to six. It has also been claimed by Pakistani sources that at least one additional device, initially planned for detonation on 30 May 1998, remained emplaced underground ready for detonation.

Pakistani claims concerning the number and yields of their underground tests cannot be independently confirmed by seismic means, and several sources, such as the Southern Arizona Seismic Observatory have reported lower yields than those claimed by Pakistan. Indian sources have also suggested that as few as two weapons were actually detonated, each with yields considerably lower than claimed by Pakistan. However, seismic data showed at least two and possibly a third, much smaller, test in the initial round of tests at the Ras Koh range. The single test on 30 May provided a clear seismic signal.

The Natural Resources Defense Council (NRDC) estimates that Pakistan has built 24-48 HEU (highly enriched uranium) based nuclear warheads, and it is reported that they have produced 585-800 kg of HEU, enough for 30-55 weapons. Pakistan's nuclear warheads are based on an implosion design that uses a solid core of HEU requiring an estimated 15-20 kg of material per warhead. Pakistan has also produced a small but unknown quantity of weapons grade plutonium, sufficient for an estimated 3-5 nuclear weapons.

Pakistani authorities claim that their nuclear weapons are not assembled. They maintain that the fissile cores are stored separately from the non-nuclear explosives packages, and that the warheads are stored separately from the delivery systems. In a 2001 report, the Defense Department contends that "Islamabad's nuclear weapons are probably stored in component form" and that "Pakistan probably could assemble the weapons fairly quickly." However, no one has been able to ascertain the validity of Pakistan's assurances about their nuclear weapons security.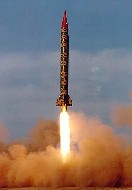 Ghauri MRBM

Pakistan's reliance primarily on HEU makes its fissile materials particularly vulnerable to diversion. HEU can be used in a relatively simple gun-barrel-type design, which could be within the means of non-state actors that intend to assemble a crude nuclear weapon.

Pakistan has not signed the Non-Proliferation Treaty (NPT) or the Comprehensive Test Ban Treaty (CTBT). According to the Defense Department report cited above, "Pakistan remains steadfast in its refusal to sign the NPT, stating that it would do so only after India joined the Treaty. Consequently, not all of Pakistan's nuclear facilities are under IAEA safeguards. Pakistani officials have stated that signature of the CTBT is in Pakistan's best interest, but that Pakistan will do so only after developing a domestic consensus on the issue, and have disavowed any connection with India's decision."

Pakistan does not abide by a no-first-use doctrine, as evidenced by President Pervez Musharraf's statements in May, 2002. Musharraf said that Pakistan did not want a conflict with India but that if it came to war between the nuclear-armed rivals, he would "respond with full might." These statements were interpreted to mean that if pressed by an overwhelming conventional attack from India, which has superior conventional forces, Pakistan might use its nuclear weapons.

Based on the yields of Pakistan's first nuclear tests, it can be estimated they have developed operational warheads of 20 to 25kt and 150kt in the shape of low weight compact designs and may have 300–500kt large-size warheads. The low-yield weapons are probably in nuclear bombs carried on fighter-bombers such as the Dassault Mirage III and fitted to Pakistan's short-range ballistic missiles, while the higher-yield warheads are probably fitted to the Shaheen series and Ghauri series ballistic missiles.

Pakistan has built Soviet-style road-mobile missiles, state-of-the-art air defences around strategic sites, and other concealment measures giving them a second strike capability.






Chagai I Test






Published on: 2010-10-26 (15179 reads)
[ Go Back ]